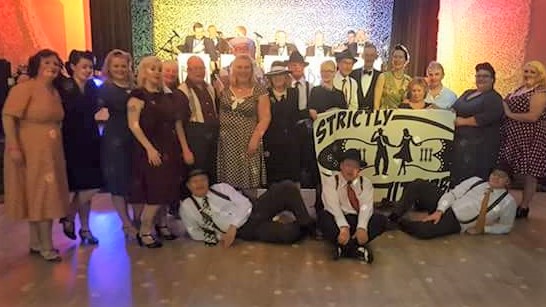 Contact ALISTAIR on 07968988442

ADULT BEGINNERS Swing & Kick Jive are 6 week courses, next one starts on Monday 8th May at Kenilworth, Bedworth starts on Wed 10th & Thursday 11th is at Overslade Community Centre Rugby. Full address details further down this page.  
This Swing style suits Rock n Roll music, and is where R'n'R dancing came from. See Basic footwork
https://youtu.be/umIllKt7Kns?list=PLOJUEySSKB9WiV3PKHx3eJUySSaUpTYMf

If the music is slower, we use different footwork https://www.youtube.com/watch?v=trxaVdJdTv4

If you want to see one of our Party Dances, The Cheeseburger, then copy paste this link into your URL  https://www.facebook.com/100010259107368/videos/183334942018475/?theater 
What we do, is teach small groups of people, with a max class size of 30-40.This means we can give good, individual, help & tips. Alistair always uses a head mike, to make sure everyone hears easily.
MONDAY 8.00 The Copperhouse Club (Formally The British Legion),
1 Park Road KENILWORTH CV8 2GF 
WEDS 8.00 The Ex Servicemens Club Rye Piece Ringway BEDWORTH CV12 8JH 
WEDS: See dawnsjitterbug.co.uk for details of Birmingham
THURS: 7.30Overslade Community Centre
Buchanan Road RUGBY CV22 6AY
If you book the course, and pay in advance, you get 6 lessons for the price of 5. Pay as you go, JUST £7 per evening (Bedworth £5) under 16's £4 Social entrance £4.
You can join us on any date (except week 6), as we start each lesson with Beginners footwork and you do not have to bring a partner, (though it helps) as we work a rotation system (with a provision for those who do not want to rotate or have a cold).
We also do a weekly Cardiac Rehabilitation session for the QE Hospital in Birmingham, teaching people with heart problems.
http://www.birminghammail.co.uk/lifestyle/health/dance-classes-laid-queen-elizabeth-1319438
We desire to run a professional club, in the way we would have liked to have been taught, so we even detail all the beginners lessons in writing. Want a new social circle? We provide access. Want to meet like minded people, ideal chance. Do 1940's Re-enacting? The perfect accessory! Want to know more? Ring Alistair on 07968988442
I cannot remember them all, but we have attended a LOT of dance workshops with teachers from all over the world, and have learnt from Frankie Manning, Julie Oram, Simon Selmon, Gary & Sara Boon, Rob (Van Haaren) & Dianne, Kevin St Laurent (First with Carla, later with Jo), Marcus & Barbl, Steve & Heidi, James & Bridget, Mike & Mel, Joseph Sewell, Mel & Jo Calanglang, Trisha Sewell, Alan Axon (All Ruzzit Buzzit), Marc & Hoc, Paul & Debbie, Paul & Fae, Nicky & Jim, Surrey Jive, Francis & Andy, Dai & Sharon, Ryan & Jenny and last, but also first for Alistair, Dancin Dave.
Public Liability : £2,000,000
Employers Liability : £10,000,000